CALLMASTERS™ TURKEY CAMP™ VOLUME 2
Turkey Camp™ is the anticipation of opening morning. It's the return to the simpler ways of gun and call. It's the laughter you share with good friends and family around a campfire. It's the thunder of a gobbler high on a ridge at dawn. It's the thrill of the hunt!
You're invited to join the Callmasters™ for two incredible hours and 18 hunts as they travel to camps in Tennessee, Texas, Wyoming, Connecticut, and Alabama. You'll experience awesome Deep South gobblers strutting into gun range. Thundering Toms as they rattle the woodlands of the Northeast, Texas Rio Grande Long Beards as the Spit 'N Drum their way in to the call and Western mountainside show downs with gobblers. (Some cool bonus footage too!)
So pull up a chair, you're invited to join us in Turkey Camp™.
Back to Legendary™ DVDs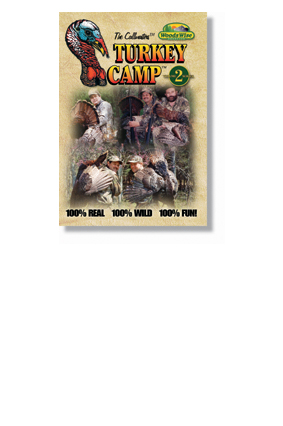 Related Products