LOST FAWN™ MA-MAH™
If you're looking to "put some meat in the freezer opening weekend," you need look no further...
The new Lost Fawn Ma-Mah is unlike any call you've used before. The Lost Fawn Ma-Mah does not produce the usual SCREAMING fawn distress stuff! Instead, it produces a softer and less emotional Ma-Mah sound of a fawn saying "I'm lost, where are you?"
This new sound can be used by hunters from opening day right up to the peak of rut with such consistent results with both bucks and does that it should almost be deemed illegal!
Plus, since it's not a distress call, deer walk in calmly with their defenses shut down. Another benefit to the Lost Fawn Ma-Mah is that it won't spook deer, because the message it sends doesn't express danger or a threat. However, we must warn users to be ready when they cry Ma-Mah, because the action happens quickly!
- New Technique: Lost "Ma-Mah" cries calls bucks and does.
- Inhale & exhale dual reed tone
- Soft inhale for young "Spotted Fawn" Sounds
- Soft exhales make older fawn calls
- Ideal for bowhunters
Back to Deer Calls
See This Product in Action!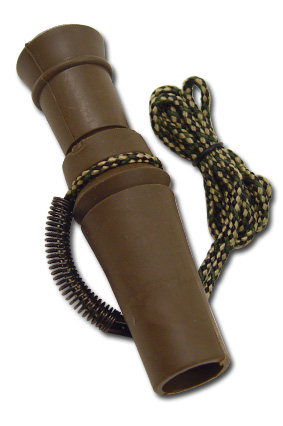 Related Products