MA-MAH™ Combo Pack
We've put together two of the hottest whitetail deer calls into one great package to help you fill your freezers this Fall.
The Ma-Mah Combo Pack includes the Super Hot Ma-Mah™ and the NEW Lost Fawn Ma-Mah™ - two great calls that appeal to a deer's social behaviors.
The Super Hot Ma-Mah features four whitetail deer breeding vocalizations backed by science and proven in the field:
-Exhale for Young Sexy Doe "Ma-Mah"™: Calls Bucks & Does.
-Inhale for Urgent Old Doe "Ma-Mah"™: Demands Bucks Attention!
-Inhale for Short, Soft Doe Breeding Blats™ To Coax Bucks Closer.
-Inhale & Exhale for the Famous Hot Doe Breeding Bellow™.
The Lost Fawn Ma-Mah produces a softer and less emotional Ma-Mah sound of a fawn saying "I'm lost, where are you?" Plus, since it's not a distress call, deer walk in calmly with their defenses shut down. Both Bucks And Does Respond Out Of SOCIAL CURIOSITY....Who Is Lost? Why? What's Going On?
- New Technique: Lost "Ma-Mah" cries calls bucks and does.
- Inhale & exhale dual reed tone For Young Or Older Fawn Calls
- Softly Inhale for young "Spotted Fawn" Sounds
- Softlt Exhales To Make Older Fawn Lost Calls
- Ideal for Bowhunters Or Any Early Season Hunts
Now you can get both of these proven calls for a low price: A $38.98 Value for only $34.99!
See the Super Hot Ma-Mah and Lost Fawn Ma-Mah Calls in Action:
Back to Deer Calls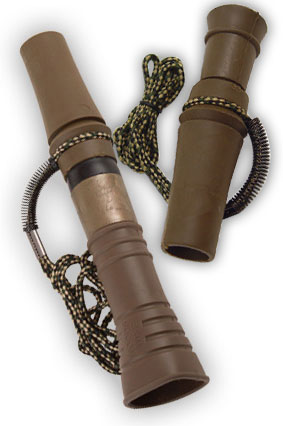 Related Products